22 April 2012. Wolves 0 Man City 2.
4 May 2013. Brighton 2 Wolves 0.
Same result, same implication. In just over a year Wolverhampton Wanderers have been relegated from the Premier League and now, amazingly, the Championship. How has it come to this? There has been no shortage of accusations thrown around in recent weeks, some of them more accurate than others. As a season ticket holder and lifelong supporter of the club, I've found myself unable to make sense of this unprecedented fall from grace. One thing I am keen to avoid here is to try and present a poster boy for the club's decline. It would be unfair to leave one person alone to foot the bill for this sorry mess.
The general consensus appears to be that our chairman Steve Morgan made an appalling and unpardonable error in getting shot of everybody's favourite Yorkshire Terrier, Mick McCarthy. I'm not quite sure I've ever subscribed to this point of view. Don't get me wrong, I like Mick. The majority of Wolves supporters will always feel indebted to him for revitalizing the club at a time when it was in desperate need of a shot in the arm and, of course, returning us to the Premier League after a five year absence. However, by the time of his dismissal his tenure had unquestionably grown stale. The team had won just one game in their last thirteen and were in the relegation zone after collecting 21 points from 25 games and, more significantly, had just been comprehensively beaten at home by West Bromwich Albion. If anything, McCarthy had done well to make it to February.
The timing of the decision, however, is another matter entirely. With just thirteen games of the 2011/2012 season left, Morgan should have kept his trigger finger under control. If there had been a time to sack the manager during that particular season it was earlier in the campaign. I distinctly remember trudging back from Molineux after a 2-2 draw against newly promoted Swansea and feeling completely underwhelmed by the state of the team. True, the players had shown character to claw back a point against a half-decent side but that did little to cover up the reality that they had spent the best part of 90 minutes chasing shadows. It seemed to be the ideal time to move Mick on and give somebody else the opportunity to shake things up in the January transfer window. Alas, no such decision was made and eventually the relationship between manager and chairman imploded in spectacular fashion when Morgan paid a visit to the home dressing room in the wake of a dismal defeat at home to Liverpool. Two games later Mick was gone and a wild goose chase ensued as Morgan and chief executive Jez Moxey tried to find somebody daft enough to take on the challenge of keeping the club in the top flight. Not too surprisingly, there wasn't too many managers enthused by the offer of a short-term contract and the prospect of a relegation on their CV. This was Morgan's first managerial appointment and, much to the chagrin of us fans, he was making a right pig's ear of it.
Step forth Terry Connor. If there has ever been a more underwhelming managerial appointment in Premier League history then please, let me know. To be fair to TC he was essentially doing the club a favour. Nobody else wanted the job, except for Steve Bruce allegedly, and the club were fast becoming a laughing stock as Morgan and Moxey's search for a manager increasingly began to resemble a Chuckle Brothers tribute act. Connor was the footballing equivalent of a sacrificial lamb, brought in to oversee a relegation that was looking more and more inevitable with each passing week. It came as no surprise to anyone when demotion to the Championship was confirmed with the aforementioned defeat to Roberto Mancini's champions-elect. Wolves had gone out with a whimper, the only incident(s) of note to have occurred during Connor's reign being a number of embarrassing public misdemeanors committed by a certain Roger Johnson. The defining characteristics of McCarthy's team (i.e. team spirit and work ethic) were nowhere to be found and a change to the club's culture was clearly needed if an instant return to the Premier League was to be achieved.
Such refinement was offered to supporters via the appointment of an obscure Norwegian coach, namely Stale Solbakken. This slap head Scandinavian had previously endured a rather topsy turvy career in management, having enjoyed great success at FC Copenhagen only to then follow that with spectacular failure at Cologne. This appeared to be a strategic appointment by Morgan, one designed to abate the growing discontent from the terraces. Many supporters found it difficult to oppose the selection of Solbakken as the club's new manager for the simple reason that they knew next to nothing about him or, more importantly, his management style. Some, myself included, were even enthused by the notion that the powers that be had finally recognized the need to get to grips with modern day football, this being the first foreign manager to ever be handed the reigns at Wolves. Solbakken came across well in his initial outings with the press, speaking of a need to analyze all of the team's games from the previous season before making any judgements on the playing personnel. Sadly, it would appear that the DVDs of those said performances got lost in the post as Wolves headed into the 2012/13 season with a squad comprised predominately of the team that had achieved relegation so spectacularly in the previous campaign. Seven new additions were made in the close season, with the same number departing the club on a permanent basis. Of the latter, it's fair to say that only Steven Fletcher and Matt Jarvis's absence would be felt, though some supporters I'm sure will continue to (wrongly) preach the virtues of Adlene Guediora. Of the players to arrive, only the perennial reserve striker Frank Nouble could recall previous experience of English football. It was shaping up to be a very uncertain campaign for Solbakken and his charges.
Initial results, however, were good. After just one win in their first four games Wolves racked up five in their next six, climbing to the dizzying heights of third place on 6 October following a 1-0 win away from home against Blackburn. Many of the foreign imports had impressed, with Bakary Sako and Tongo Doumbia in particular winning acclaim from supporters. A spate of injuries hit the team shortly after though and a spectacular loss of form saw just two wins recorded in the next sixteen games. A humiliating 1-0 defeat in the FA Cup to non-league Luton was enough to seal Solbakken's fate, with Steve Morgan opting to bring his foreign flirtation to a premature end. It had become painfully clear that the players left from McCarthy's regime (so, the majority of the squad) simply couldn't get to grips with the new manager's demands. They were used to chasing after the ball, not passing it. The idea of keeping the ball was a concept completely lost on the likes of Stephen Ward and Karl Henry. In all fairness, the players aren't necessarily to blame for that. Some footballers are just more adaptable than others, and Solbakken would have been wise to recognise this alter his methods when several of his summer acquisitions were lost to injury. Instead, he persisted in trying to squeeze blood from a stone and ultimately paid the price for it.
Personally, I still don't agree with the decision to get rid of Solbakken so early into his tenure. Morgan had supposedly brought him in to change the club from top to bottom and yet it took just five months for him to decide that he had made a mistake. Granted, the football being played was growing increasingly static and our league position didn't make for great reading (18th), but it wasn't fair to apportion the manager with the full blame for our shortcomings. A losing mentality had been able to spread in the dressing room and the only way that it could be dealt with was by moving some of the under-performing players on. Mick had pitched up at Ipswich Town by this point and would have surely been happy to take some of his former charges with him to Portman Road. As noted previously, Solbakken's transfer dealings to date (with the exception of the anonymous George Margreitter and the infuriating Jermaine Pennant) had proved useful and it stood to reason that he would have added one or two more nifty players in the January window had he been given the chance. Alas, Morgan's mind had been made up once again and a new appointment was made almost instantly, with Dean Saunders handed the challenge of salvaging something from this most dismal of seasons.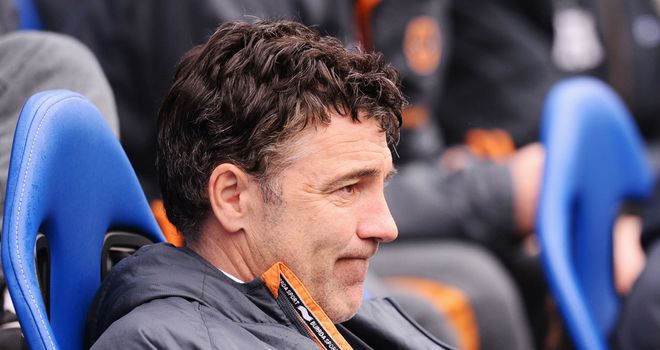 Dean Saunders...where to begin? It's still almost impossible to understand the logic behind his appointment. The only managerial experience the Welshman could call upon were stints in charge of non-league Wrexham and League One outfit Doncaster, hardly much to whet the appetite. More concerning to Wolves supporters was the fact that Saunders had overseen the latter's relegation from the Championship in the previous season. Having wrote off the Solbakken revolution, the club hierarchy had appeared to deem fit a return to old habits. Gone was the possession based football adopted in the first half of the season and back was the 'kick and rush' antics that had served us so well in the past. The key difference this time around, however, was that the players who had thrived under that system previously were now a group of tired, unmotivated losers. Harsh as that may sound, the reality is that the stalwarts who had served the club so well before had by this point been reduced to a bunch of hapless wasters who didn't have the requisite amount of fight in them to save us from our plight. The sequence of results that occurred after Saunders's appointment, barring a mini-revival in late March/early April, were so disastrous that it resulted in a second successive relegation.
And so here we are. Saunders became the fourth manager in just over a year to fall on his sword, his dismissal confirmed by the club on Monday morning. Did he deserve to go? Well, it's hard to say anymore. Certainly, you would hope that he'll eventually be joined on his way out by a large number of the players who have got us into this sorry mess. There are likely to be few Wolves fan who blame Saunders entirely for our relegation, though that does not make him immune to criticism. His 20 game spell in charge of the team will forever be blighted by tactical inconsistency, poor discipline and most tellingly a distinct lack of fight from his charges. Wolves did not so much as succumb to relegation as openly embrace it and that, I believe, is what will have convinced the chairman that he could not trust Saunders to return the club to the second tier next season. I have had the pleasure of meeting Dean and he is a true gentleman, one who sadly took on a challenge that was far beyond his capabilities.
What next then? The club have spoken openly about a desire to appoint a 'head coach' to work alongside their director of football, Kevin Thelwell, which would appear to suggest that they intend to put in place a model that mimics the one employed by the old enemy, West Bromwich Albion. Why it has taken two consecutive relegations to bring about this change I do not know. If Solbakken had been afforded the opportunity to operate within this sort of model, he may have stuck a chance of succeeding at Molineux. Regardless, what is clear to me and, I'm sure, all Wolves supporters is the need for the board to get their next managerial appointment right. The last year has been a crash course in how not to run a football club and Steve Morgan and his charges can simply not afford to make any more mistakes. They now face a fanbase whose confidence in their methods has been strained to near breaking point and the only way they can remedy that is by delivering success on the field. There can be no more novices or short-term fixes. Wolves need a man with authority and a distinct knowledge of all levels of English football if they are ever to re-establish themselves as a top flight club. Thankfully, there are plenty of managers out there both young and old who are likely to see the Wolves job as an appealing one, given the potential the club has and the rich history it holds. I can only hope that whoever is offered the position is the man to restore a smile not just to my face but to all of those who hold the old gold and black close to their heart.
UTW.